Sapio ELNSM Electronic Lab
Notebook Software
Finally, an electronic lab notebook software solution that works the way scientists do.
The science-aware™ Sapio Electronic Lab Notebook is effortless to use and easy to love.
The right ELN software can unlock levels of productivity that scientists have only ever dreamed of. Unfortunately, many of the industry's current electronic lab notebooks alternatives have cumbersome interfaces, rigid capabilities, and an overall lack of science-awareness that result in poor adoption among scientists.
At Sapio, we believe in giving scientists tools that work the way they do, and not the other way around. Through one, unified experience that is made for the scientific user, our electronic notebook simplifies life in the lab, inspires end user adoption, fosters a spirit of collaboration, and accelerates scientific productivity in powerful new ways.
"Sapio's ELN is a true cloud platform, and it's a complete, easy-to-use product that quickly became an essential tool for my team."

— Top 5 BioTech Company
The benefits of Sapio ELN are truly immeasurable, but here's a start.
46%
Rise in System Usability Score (SUS)
251%
Increase in Experiments
10x
Improvement in Productivity
What makes Sapio ELN different?
Training optional
Built-in scientific tools and objects
Scientist-led analysis, not SQL
Real time
collaboration
Training optional
A truly exceptional ELN should function exactly the way the scientist thinks it should, so that the scientist doesn't have to think about the technology at all. From creating an experiment to recording notes, and analyzing data, Sapio ELN makes it easy to jump right in and provides scientists tools they are actually excited about—inspiring adoption and allowing scientific productivity to soar to new heights.
Built-in scientific tools and objects
More than a single pane of glass, the electronic notebook should deliver built-in scientific applications that provide real utility to scientists without disruption. Sapio ELN includes integrated flow data analysis, instrument automation, reusable scientific data objects, and design tools for plasmids, CRISPRs, and compounds—empowering scientists to do what they do best and realize powerful efficiency gains along the way.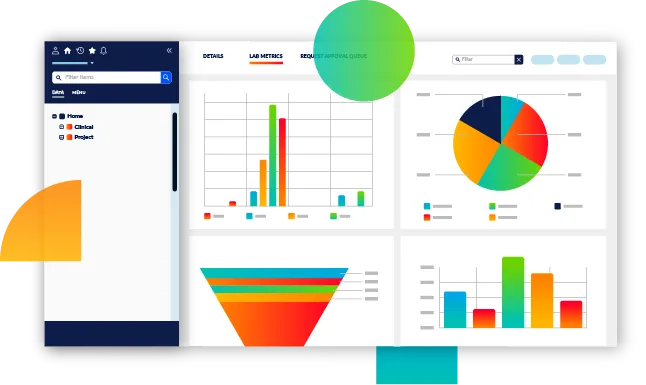 Scientist-led analysis, not SQL
Tired of an army of database scientists standing between you and your scientific data? Made for science, not SQL, Sapio ELN offers scientists rich data search, visualization, and analysis. Quickly find structured and unstructured data across your entire organization with science-aware™ searching, including the ability to locate compounds by substructure and similarity. Then, bring your data to life in interactive, scientific visualizations—all without ever leaving your ELN.
Real time collaboration
When scientists join forces, the result is powerful. Sapio ELN revolutionizes scientific collaboration by enabling scientists to simultaneously work on experiments, share notes, and add content and data. Replace your collaboration tool with integrated chat, discussion threads, ideation, tasking, and more.
In other words, Sapio is science-aware™.
Learn what it means to be a science-aware™ ELN in our guide.
A true LIMS and ELN platform. A class of one.
Your ELN, your LIMS, your data… we call it the Sapio Triple Play.
Ever think you're getting a true LIMS and ELN platform until you realize your LIMS has no idea what your electronic notebook is doing?
Say goodbye to siloed systems and hello to truly unified lab informatics with the Sapio Triple Play—a single, unified platform experience that handles your experiments, your workflows, and your data in one interface that puts the science first.
Sapio ELN is one part of a unified whole. Explore the fullness of our platform.
Sapio Platform
One common substance, one unified experience.
Sapio LIMS
The low-code LIMS made for scientists, not database engineers.
Sapio Jarvis
The scalable data solution you need for high throughput science.
Scientific data, analyzed scientifically.
Sapio ELN is equipped with tools to visualize, analyze, and utilize scientific data in a truly scientific way. Here are some of the features our customers love most.
3D plater
Flow Cytometry analysis
CRISPR, plasmid & compound design
Built-in statistical calculations
Integrated genome browser
Instrument automation
Vector modification
And more…

Product Literature and Resources
Brochure
Sapio ELN Product Sheet
Case Study
Baylor HGSC Case Study
Brochure
Sapio Company Overview
Do you have questions about electronic lab notebooks?
We'd love to answer them.
What makes one ELN superior to the next?
Many view the electronic lab notebook as a pane of glass, a more visual and sophisticated form of the paper notebook. But this definition assumes the ELN is still a passive tool and not an active one. Conversely, a differentiated ELN will not just standardize and digitize traditional lab notes, it will open new possibilities by harmonizing the notebook function with powerful science-aware™ capabilities.

For example, imagine an electronic lab notebook that could support embedded, editable data visualizations, or allow you to design scientific entities that can subsequently be used across all your experiments at scale? Consider a world in which all your scientific observations are highly searchable—with science-aware™ linkages that help you find and use precisely the data you are looking for. Layer on top rich scientific collaboration tools and an integrated platform for LIMS and data management, and you have so much more than a digital version of the lab notebook.

Beyond sheer capability, the ELN is also highly differentiated by its interface. Does it work the way the scientist thinks? If the answer is no, adoption will continue to be an uphill battle. If the answer is yes, then adoption will be unanimous.
Why is adoption such a struggle with electronic notebooks?
Many assert that poor ELN adoption is a byproduct of change-resistant scientists—but this is not the case. Poor ELN adoption is much more the byproduct of poor solutions that either don't work the way scientists do or fail to provide the enhanced utility needed to justify a change in approach.

Scientists are about anything that accelerates scientific progress. When the ELN becomes a powerful enabler of faster discovery, more effective analysis, and richer scientific collaboration, it will be used by scientists everywhere. In fact, the Sapio ELN is enthusiastically embraced by scientific teams, who recognize its ability to simultaneously simplify and supercharge their daily work.
What does an ELN need to provide for scientists to use it?
The most important thing an ELN needs to provide for scientists is an interface that works the way they do. If a scientist is used to composing experiments in a certain way, for example, the ELN should enable them to do so—only easier and more simply than ever before. If a scientist is used to recording notes in a specific form, an ELN should enable them to do that too—only in a way that is also highly searchable after the fact. If a scientist sees a myriad of workarounds needed to simply execute their current work in the ELN, it will not be used for very long.

But the ELN should also be so much more than a pretty (inter)face. It should provide scientists a variety of Science-aware™ tools that enable them to not only digitize, but enhance, experiments. Take our 3D plater, for example, which enables scientists to assemble plates with automation-enhanced ease. Or our experiment builder, which allows scientists to define and reuse experiments using drag-and-drop. Or our scientific collaboration tools, which allow scientists to rally around their work in a way that a paper notebook never could. When an ELN provides all these things, scientists will not only use it—they will embrace it wholeheartedly and never look back.
What is the relationship between the ELN and data management?
The laboratory notebook is home to a wealth of scientific data, including experimental data points, observations, instrument data, scientific objects, and more. Unfortunately, the traditional lab notebook, and even many electronic lab notebooks, fail to bridge the gap between storing this data and making it usable in more meaningful ways to drive scientific progress throughout the organization.

At Sapio, we recognize that the ELN and the LIMS are inseparable from scientific data management. The data from these solutions must be easy to search, reuse, standardize, analyze, and utilize throughout the organization. Most importantly, these functions should not require scientists to exit the lab informatics platform and outsource scientific data intelligence to another (often non-scientific) solution. Everything should be done in one place—where the data is and where the scientists are.
Why should I consider Sapio a trusted partner?
Sapio Sciences' lab informatics solutions are trusted by some of the world's largest and fastest growing pharma and biotech companies. Sapio's technology is backed by deep expertise in the creation of user-friendly applications and an unwavering focus on the priorities and requirements of the scientific user.

Our customers consider Sapio a dedicated partner, and we are committed to transparency and truthfulness in all that we do. Visit our company page to learn more about The Sapio Seven—seven principles that are foundational to our mission and products.
How much does the Sapio ELN cost?
We offer several editions of our platform that can be tailored to each customer's level of requirements. Check out our pricing page to learn more about pricing and features for our Gold, Silver, and Bronze editions.
What if my team and I don't have an IT department?
Our commitment to lowering the barriers to adoption starts during implementation. Our lab informatics platform, including ELN, LIMS, and Jarvis, are fully cloud-based and require nothing more than a modern web browser. Simply sign up and get started. Are you an academic? You can register to use our Sapio Bronze edition for free.
What if my team doesn't have time to train up?
The Sapio ELN is so easy to use and frictionless to adopt, that many scientists find they do not need any training at all.
For customers that are looking for a little extra support, we provide free access to our support forum and helpful resource library. In addition, our resource library provides useful information about ELN and LIMS software and offers customers access to whitepapers and additional support.

Beyond our forum and resource library, the entire Sapio team is dedicated to supporting our customers in meeting their lab informatics-related objectives now and in the future. We consider ourselves true partners and are proud of the level of support.

Are you a Sapio Sciences customer and have a question? You can reach our sales and customer support team via email or call us at (410) 800-4620.
A demo is the best way to experience experiments with Sapio ELN.
Fill out the form to request your demo.