Lab informatics solutions made for the scientist, and motivated to make the world a better place.
We recognize that lab informatics is about more than weaving together workflows or organizing data. It's about making life easier for the scientist and scientific progress faster for everyone.
We believe that accelerating discovery is only possible when the barriers to customization are lowered and the needs of the scientist are put first. That's what we're here to do.
Through the market's first science-aware solutions, we power levels of configurability, usability, and insight that scientists have only ever dreamed of. By challenging the status quo with a spirit of scientific questioning, we uncover the needs at the heart of science and respond to them with powerful solutions that are simple to use, effortless to evolve, and downright easy to love.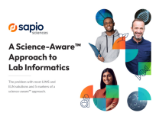 Tell me more about what it means to be science-aware™.
Our Values
The Sapio Seven
Our lab informatics solutions are inseparable from our core values, which are enthusiastically embraced by every member of our team. We call them the Sapio Seven.
01
Embrace the future.
We believe in the integral role of predictive analysis, machine learning, and artificial intelligence in making discoveries and innovations a reality.
02
Make a difference.
Science is about improving and preserving lives, driving us to make a meaningful impact on healthcare, environmental safety, and disease prevention.​
03
Be true partners.
We are dedicated to being true partners, understanding scientists' needs, and enabling them to drive progress in their fields.
04
Remember why we're here.
Our purpose is to improve and preserve lives through science, and this purpose guides our daily work.​
05
Act with empathy.
We focus on understanding and embracing the experiences of scientists, creating solutions that alleviate pain and address needs.​
06
Commit to transparency.
We are committed to transparency in our platform and interactions, serving ​
as a trusted partner to our clients.​
07
Excel in quality.
We are committed to excellence in every product we create, ensuring they are of the highest quality.​
Our clients
Sapio is trusted by large and small labs all over the world with a focus on discovery, development, and clinical diagnostics. Our clients are the innovators, the scientific questioners, the against-the-grainers. They believe that lab informatics can be all that they hoped for, with Sapio.
Your career
We are growing fast, and you will too. Join a team of visionaries who believe in unified platforms, configurable workflows, and empowered scientists.
Want to know more about Sapio?
Blog Post
Why are lab informatics systems so hard for scientists to use?
Guide
A Science-Aware™ Approach to Lab Informatics
Brochure
Sapio Company Overview