The science-awareTM informatics platform.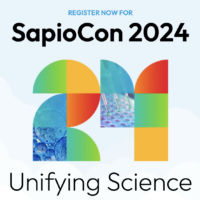 SapioCon 2024 – Unifying Science
DATE: February 12-14, 2024
VENUE: Miami Beach Edition Hotel, Florida
Science is complex. Finally, a platform that simplifies life in the lab.
We make life easier for scientists and the scientific process faster for everyone with a science-aware™ lab informatics platform that is simple to configure, effortless to use, and easy to love.
Built for science. Made for you.
Scientific tools for seamless science.
Support every use case with a built-in LIMS workflow, ELN, and scientific tools for CRISPR editing, plasmid design, flow cytometry, 3D plating, and so much more.
Goodbye silos. Hello science-aware™.
We replace legacy architectures and passive data with a living knowledge graph that is science-aware™, fully contextualized, and designed for action.
All flow, without the work.
Nothing should stand between scientists and their work—especially code. In a single, no-code platform, Sapio empowers scientists to build their workflow, in their way.
Worth reusing, not repeating.
Easily record and reuse experiments and scientific design entities in an ELN that brings scientists together in one, collaborative workspace.
"Having supported piecemeal solutions for years, our team sought a platform that would capture data produced by all our researchers and provide easily configurable ways to expose data to the right scientists at the right time and in the right way."
— Joseph Tivade, Senior AnalystCASE STUDY
"After an extensive search, the openness and flexibility Sapio impressed us. Sapio's no-code platform enables us to define standard processes and, importantly, make changes as we evolve."
— Juliet Jones, Chief Operating Officer "Sapio's configurable no-code/low-code ELN platform will help to facilitate our digital transformation at OXB, supporting us to deliver high quality viral vector CDMO services to our clients."
— Matthew Treagus, Chief Information OfficerCASE STUDY "The Sapio LIMS platform has enabled us to record and track the complex lab processes in minute details. The LIMS has truly been a force multiplier for our lab."
— Jianhong Hu, Director of Clinical Lab at Genome Sequencing CenterCASE STUDY
"The expert team took the time to understand our science and worked closely with us to configure a solution that can be adapted as we grow and our workflows evolve."
— Jesse Cotari, Ph.D., CSO and Cofounder CASE STUDY
Forward-thinking labs choose Sapio.
Here's how Sapio will transform your lab.
Hit the ground running.
Get started fast with no-code workflows, pre-built templates, and the most intuitive interface you've ever had the pleasure of using.
Adapt smoothly, in flight.
Embrace new capabilities, instruments, and services without disruption or worry using a platform that was made to adapt at the speed of science.
Make your data move mountains.
Easily search and discover with our science-aware knowledge graph, then utilize our built-in AI analytics to interpret and utilize your data like never before.
We love to see scientists' faces light up during the demo.
Let us show you the platform live.