🌹 Back for Valentine's Evening – See Updated Agenda 🌹

Over the last several decades, scientists have covered tremendous ground. First, they innovated in chemistry with an explosion of small molecule therapeutics. Then, they documented the entire human genome. Next, they used that genome to discover large molecule therapeutics for conditions that were never before treatable. Now, they're making new rules that combine elements of all of these molecule types in truly novel and transformative ways.
The problem? Unifying science requires a platform that bridges the divide – small molecule, large molecule, LIMS, ELN, Data and AI – all-in-one.
Join us in Miami for our annual user conference, an event exclusively made for scientific innovators and world changers. We can't wait to see you there!
Why should I attend?
Make connections with others.
Meet and engage with fellow scientists and digital leaders.
Expand your perspective.
Attend insightful presentations on a variety of relevant topics.
Be the first to know.
Get an early look into new platform enhancements.
Have your voice heard.
Contribute to the advancement of lab informatics.
Get to know our 2024 location.
The City
Miami, Florida
Miami is a coastal gem with diverse industry, a bustling business district, and a captivating ocean backdrop. The city's many unique features include beautiful natural beaches, endless water activities in Biscayne Bay, and an incredible fusion of cultures that is reflected in its cuisine, art, and nightlife.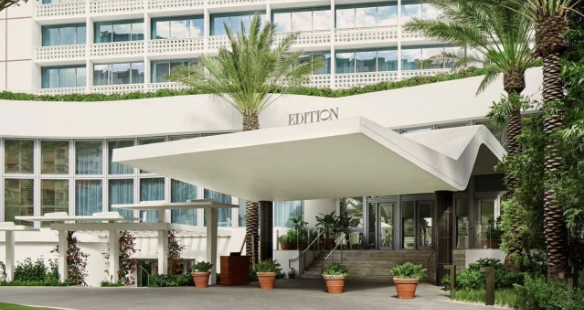 The Venue
The Miami Beach EDITION
The Miami Beach EDITION is a luxury hotel and conference space that is filled with natural lighting, exudes modern luxury, and offers plentiful outdoor spaces with ocean views for enjoyment. SapioCon will be held in the hotel's Forum venue, which is supported by state-of-the-art technology and gourmet food.
Agenda – New early finish for Valentine's Day
Day 1 – Mon, February 12th
11:30 AM-1:30 PM Registration, Express Lunch & Demo Pods
1:30-2:00 PM Welcome & Sapio Keynote
2:00-3:00 PM Industry Talk
3:00-3:15 PM Coffee Break
3:15-4:00 PM Operationalizing High Throughput Sequencing: A Real-World Perspective – Angela Kenyon, Labcorp
4:00-4:45 PM Precision Public Health, Joanne M. Hackett, IQVIA
4:45-5:15 PM What Comes After Terabytes: Using Sapio LIMS to Tame Big Data, Louisa Zebrowski, Aspen Neuroscience
5:15-6.30 PM Demos Pods
6:30-8:30 PM Evening Reception – Tropicale
Day 2 – Tues, February 13th
7:30-8:30 AM Breakfast – Matador
8:30-11:00 AM Track 1 – Scientific Data Cloud & AI
8:30-11:00 AM Track 2 – Sapio Platform Innovations
10:00-10:15 AM Coffee Break
11:00-11:45 AM Client Presentation
11:45 AM-12:30 PM Client Presentation
12:30-1:45 PM Lunch and Birds of a Feather
1:45 PM-4:40 PM Track 3 – Sapio Solution Deep Dive
1:45 PM-4:40 PM Track 4 – Lab Operations
3:00-3:15 PM Coffee Break
4:45-5:30 PM Facilitated Panel Discussion
7:00-10:00 PM Evening Event – La Vista Terrace
Day 3, Wed, February 14th
7:30-8:30 AM Breakfast – Matador
8:30-9:00 AM Sapio Roadmap Update
9:00-9.30 AM New Feature Reveal
9:30-10:00 AM Implementing Sapio LIMS in a Clinical NGS Lab: Lessons Learned – Helen Li, Exai Bio
10:00-10:15 AM Coffee Break
10:15-11:00 AM Using the Sapio Platform to Power a Modern Therapeutics Pipeline to Find Qualified Leads, Jeremy Rualo, Regeneron
11:00-11.30 AM Facilitated Panel Discussion
11.30-12.00 PM Closing Remarks
12:00-1:00 PM Grab & Go Lunch
❤️ Early Finish for Valentine's Day ❤️
Speakers – more being confirmed …
Angela Kenyon
Director of
Bioinformatics
Labcorp
Joanne M Hackett
VP & Head of Genomic and Precision Medicine
IQVIA
Jeremy Rualo
Clinical Genomics & Next Generation Sequencing Expert
Regeneron
Helen Li
Senior Director
of Engineering
Exai Bio
Carrie Hendricks
Global Head of Laboratory Sciences
Charles River Laboratories
Louisa Zebrowski
Sr. Research Associate
Aspen Neuroscience
Valerie Vancollie
Head of Lab Product Delivery
NatureMetrics
Kevin Cramer
Founder &
Chief Product Officer
Sapio Sciences
Gordon McCall
Chief Financial
Officer
Sapio Sciences
Mike McCartney
Chief Commerical
Officer NAM
Sapio Sciences
Andrew Wyatt
General Manager
EMEA/ROW
Sapio Sciences
Ania Plona
VP Customer Success
NAM
Sapio Sciences
Dereck Welsh
Solutions Team Lead
Sapio Sciences
Rob Brown
Senior Director
Product Marketing
Sapio Sciences
Aaron Schooler
Senior Manager
Presales
Sapio Sciences
Thanks to our event partners
Here's what last year's attendees had to say.
"Very excited to see the new features and updates roll out! Seeing the new functionality available was a great motivator to upgrade our system."
—
"It was great to network and learn so much about how to apply Sapio's LIMS and ELN for regulated large-scale work. The event flowed well, and it was perfectly organized."
—
"Seeing client presentations for high-throughput processing was just what I needed. It inspired me to make our workflows more robust using Sapio's no-code platform."
—
© 2023 Sapio Sciences. All Rights Reserved.
Your Partner in Discovery are registered trademarks of Sapio Sciences, LLC.